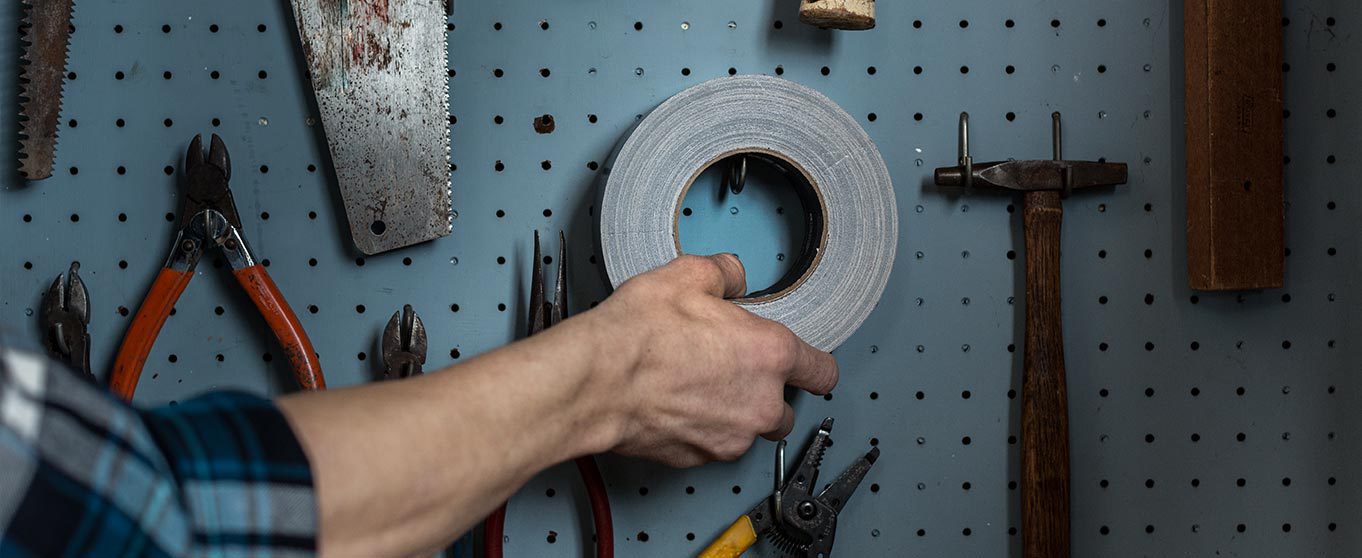 T-Rex Pro Testimonal: Custom Trade Solutions
Ed Rios, owner of Custom Trade Solutions, says, bottom line, T-Rex is superior to any tape he has used.
T-Rex Pro Testimonal: Blue Oak Construction
See why Drew Riedy and Kevin Reilly of Blue Oak Construction keep T-Rex in their toolbox every day.
What Other Pros Are Saying
I had to replace some structural wood due to termite damage. On the outside of the sheathing there was foam insulation. I tried a few different tapes to seal the joints, and nothing was working. The other tapes wouldn't stick to the foam insulation T-Rex stuck like glue. it tore really easy off of…
Steve Miller, Miller's Inspection Services & Repair
I used the T-Rex for the initial taping together of ducts in order to ensure a tight and solid connection. I found the tape to be strong, sticky, and easy to use.  It worked great as I was using it and so far has held up quite well for the air conditioning…
Phil Bielata, Expert Contracting
I needed to secure some flexible hard duct to a backdraft damper connection and was working in a tight spot. I didn't want to have to worry about it coming loose while I was in a dark attic crawl space. I was able to pre-tape everything with the T-Rex. The tape felt much more substantial than the…
Andrew Rothacker, Pineberry Repair and Remodeling
T-Rex comes off roll easier and we like it better than standard duct tape. It's thicker and stronger and tears evenly when ripped smaller pieces. We were surprised how well it stuck to dirty concrete. It's not that often you actually need tape — until you need it, then it's great to…
Barry Donlin, Donlin Construction

Which T-rex Tape Is Right For Your Job?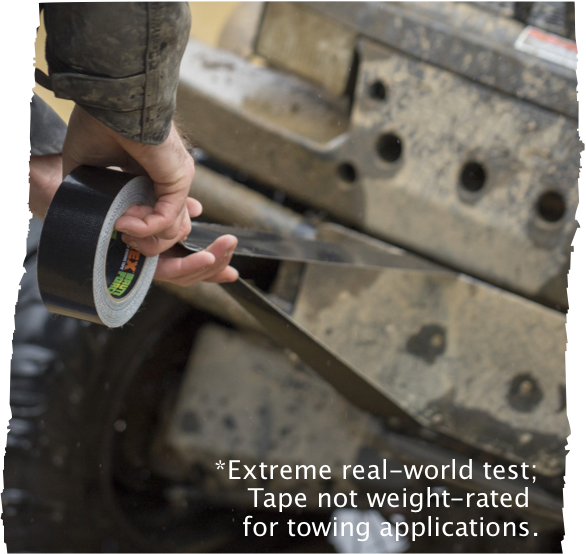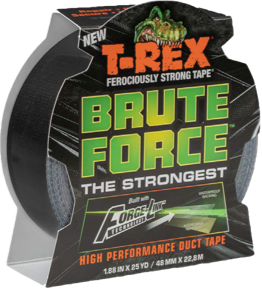 Brute Force®
The strongest duct tape on the market, period.
Ideal for:
Lifting, securing, bundling tools and heavy building supplies
Lifting heavy tools and building supplies
Securing and bundling in place of rope or chain
General repairs
Features
Built with Forge-Link™ Technology, an extremely strong tensile cloth
One loop holds 700+ pounds of weight
Durable waterproof backing and aggressive high tack adhesive
Too tough to tear by hand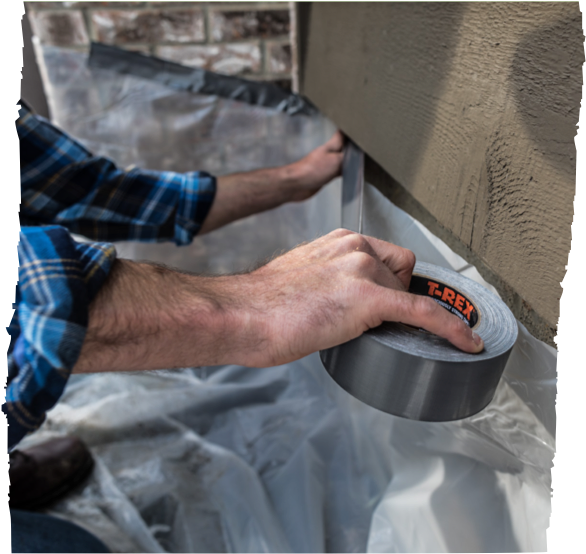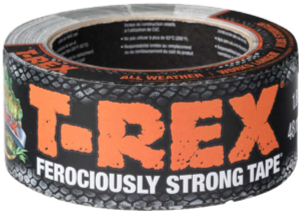 T-Rex® Tape
High-powered duct tape with aggressive double-thick adhesive.
Ideal for:
Repairing tears — truck seats, boots and more
Bundling building materials
Attaching tarps and sheathingoutdoors
Masking extremely rough surfaces like brick, concrete, wood and vinyl
Features
Made with UV-resistant materials to prevent the sun weakening the tape adhesive
Heavy-duty knit cloth for high- tensile construction
Sticks to rough, dirty surfaces through all weather types and temperatures
Available in black, gray, white, orange and camouflage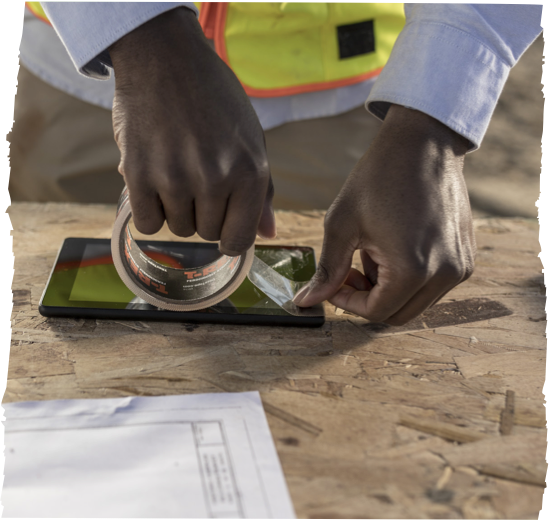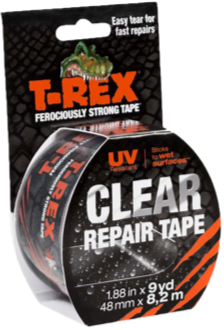 Clear Repair Tape
The same aggressive adhesive as T-Rex Tape, but in crystal clear.
Ideal for:
Discreet repairs on clear surfaces, including fiberglass and plastic.
Repairing cracks in headlights and cell phone screens
Features
Sticks to rough, dirty surfaces across a wide range of temperatures
Long-lasting holding power and a durable puncture-resistant backing
Waterproof, and UV-resistant seal to almost any repair
Won't break down or yellow over time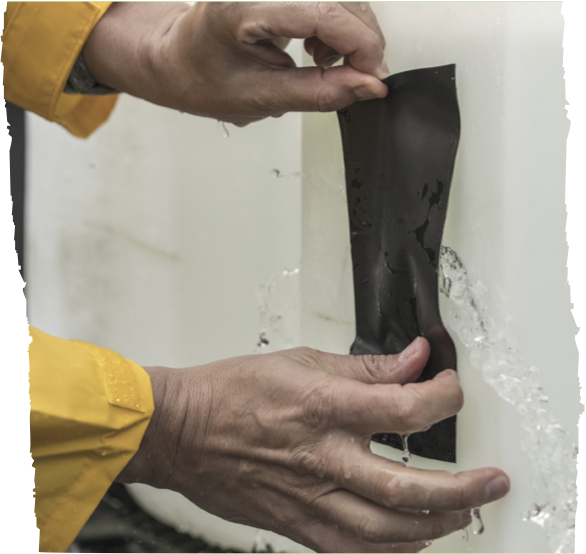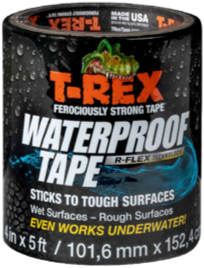 Waterproof Tape
Waterpoof adhesion, even in extreme conditions.
Ideal for:
Patching and sealing indoor or outdoor surfaces, including wet surfaces
Temporarily stopping leaks
Temporary repairs to flashing, roofing and plumbing
Features
Built with R-Flex Technology™, so it can stretch up to 700% of its original length
Can be applied underwater and pushed into cracks and rough, dirty surfaces
Can withstand extreme temperatures from -70°F to 200°F
UV-resistant formulation won't break down under harsh sunlight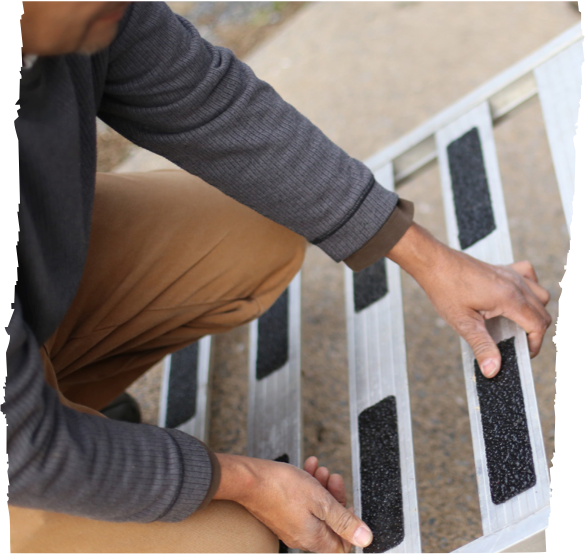 Extreme Tread Tape
Aggressive industrial-quality grip tape.
Ideal for:
Traction, grip and improved surface friction on a variety of surfaces like steps, walkways, truck runnerboards and trailers
Features
Heavy-duty, pressure-sensitive adhesive
Meets and exceeds OSHA and ADA federal recommendations
UV and weather resistant, with a temperature range of -40 °F to +220 °F
Multi-layer grit embedding process for long-lasting wear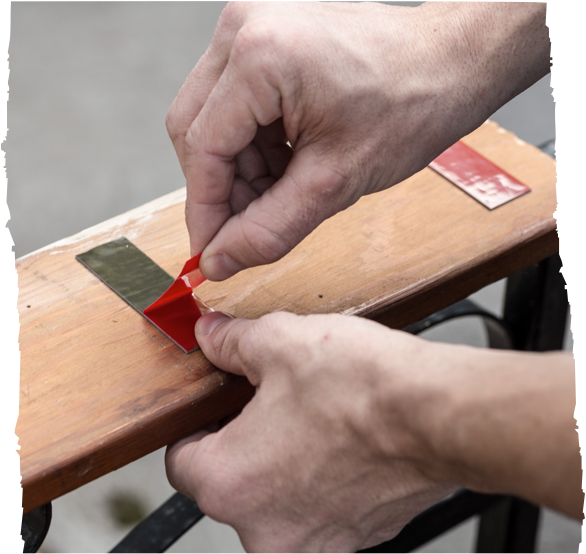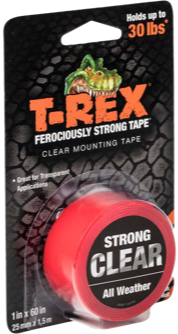 Mounting Tape
Heavy-duty mounting tapes.
Ideal for:
All-weather mounting and holding of items like tool shelves, house numbers, mail boxes and security cameras
Features
Works on a variety of surfaces and in different types of weather
Can be used all year round Available in extreme hold black and clear
Excellent replacement for glue, nails and screws
Using T-Rex® on the Job
See the strength and durability of T-Rex in action. Trusted for your toughest jobs.