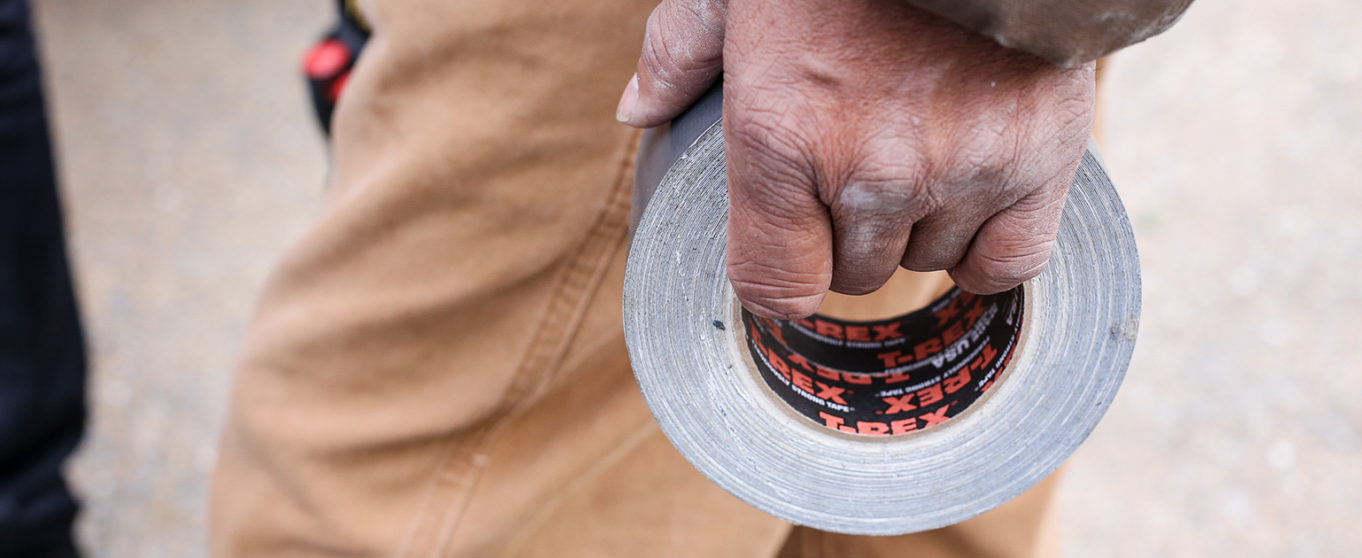 "Strong Sticky and Easy to Use"
I used the T-Rex for the initial taping together of ducts in order to ensure a tight and solid connection. I found the tape to be strong, sticky, and easy to use.  It worked great as I was using it and so far has held up quite well for the air conditioning system.
-Phil Bielata, Expert Contracting
"We were surprised how well it stuck to dirty concrete. "
T-Rex comes off roll easier and we like it better than standard duct tape. It's thicker and stronger and tears evenly when ripped smaller pieces. We were surprised how well it stuck to dirty concrete. It's not that often you actually need tape — until you need it, then it's great to have. 
-Barry Donlin, Donlin Construction
"Makes my job a lot easier. "
I needed to secure some flexible hard duct to a backdraft damper connection and was working in a tight spot. I didn't want to have to worry about it coming loose while I was in a dark attic crawl space. I was able to pre-tape everything with the T-Rex. The tape felt much more substantial than the duct tape I usually use — thicker with better adhesion and bonding power. It also tore easily from the roll, which makes my job a lot easier when having to tear a number of small pieces. Because it seemed generally more substantial, I also didn't have to worry about it folding onto itself and getting ruined that way.
-Andrew Rothacker, Pineberry Repair and Remodeling
"T-Rex stuck like glue...came through for the win."
I had to replace some structural wood due to termite damage. On the outside of the sheathing there was foam insulation. I tried a few different tapes to seal the joints, and nothing was working. The other tapes wouldn't stick to the foam insulation T-Rex stuck like glue. it tore really easy off of the roll and was easy to apply. I was ready to head to the nearest store and look for a suitable tape, but T-Rex came through for the win.
-Steve Miller, Miller's Inspection Services & Repair
Note: T-Rex products are not recommended for permanent repairs.