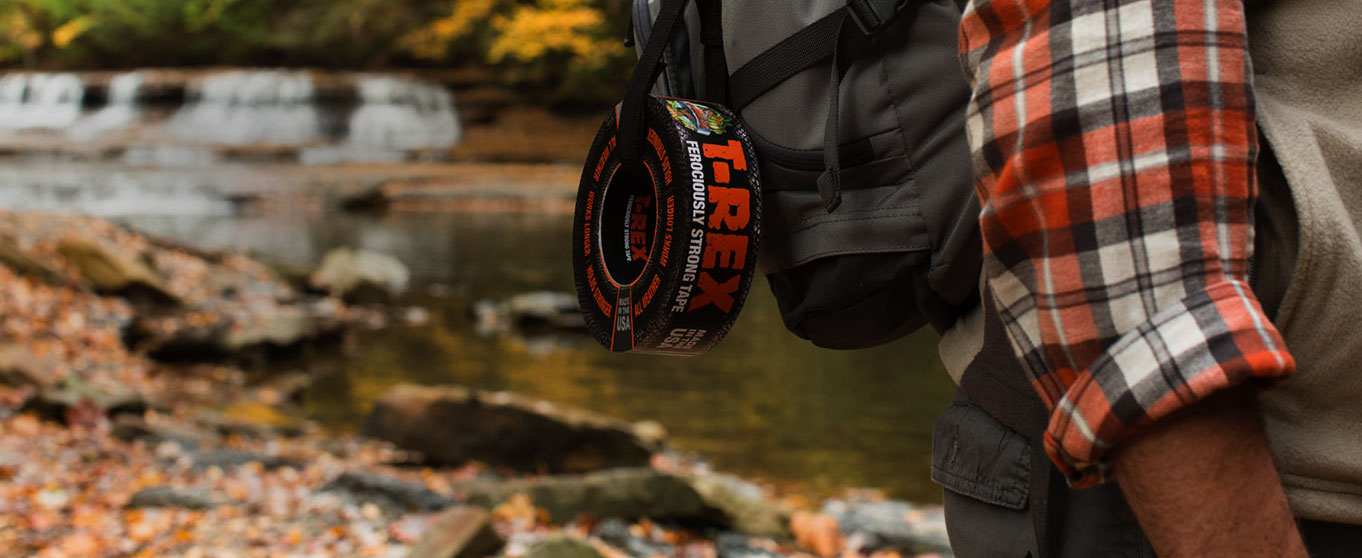 T-Rex® Brand Official 2018 Tape Partner of Tough Mudder Competitions
.
AVON, Ohio (March 2018) – Since 2010, over three million participants have tested their personal strength and endurance via Tough Mudder's obstacle course event series.  In 2018, T-Rex® brand will now challenge these aggressive athletes to test its "ferociously strong" T-Rex® Tape – which exhibits these same strong and enduring qualities – as it becomes the official tape partner of Tough Mudder.  
"Courageous. Active. Passionate. Tough. Bad-A$$! These are the words that embody both our T-Rex® Tape users and Tough Mudder participants," says Stephen Wagner, category manager at ShurTech Brands, LLC, the company that manufactures T-Rex® Tape.  "We are excited to become a Tough Mudder sponsor knowing that just like our tape – these participants push the limits of extreme performance."
In 2018, T-Rex® Tape will sponsor events in 10 markets, including: Los Angeles, California; Miami, Florida; Central Texas; Oxford, Michigan; Boston, Massachusetts; Twin Cities, Minnesota; Chicago, Illinois; Toronto, Ontario; Seattle, Washington; and Atlanta, Georgia.  In each city, Tough Mudder Nation will be challenged to muscle up and conquer the T-Rex®-branded, 10-foot-high vertical Berlin Walls. 
Additionally, T-Rex® brand will be on-site in the Mudder Village, offering information on how the Ferociously Strong Tape can help you through all of life's obstacles – even Tough Mudder challenges, such as shoe laces that quit mid-race or bibs that can't handle the dirt. Socially, at each of the 10 T-Rex®-sponsored events, Mudders can enter for a chance to win a prize pack featuring products from  T-Rex® brand and other premium brands. To enter, attendees can post a photo from the event on Twitter or Instagram tagging @TRexTape and using #TRexToughMudder and #Sweepstakes.
T-Rex® brand products are designed for projects and challenges that require intense strength, durability and holding power, no matter the application.  Whether it's simple, around-the-house fixes, tough projects on your seasonal to-do list, on the jobsite, or moments in the great outdoors, there's no project too big or too small for these ferociously strong products. T-Rex® Tape has double-thick, super-aggressive adhesive which gives the tape a superior hold on more surfaces than other ordinary tapes – including rougher, dirtier – and "muddier" – surfaces in a wide range of temperatures and humidity levels. T-Rex® Tape is also made with UV- resistant materials which gives the tape its famed holding power – indoors or out.
"Tough Mudder is thrilled to welcome T-Rex® Tape to our family of sponsors in 2018," said Rich Abend, vice president of global partnerships.  "Teaming up with the T-Rex® is exciting because the brand's evident, constant commitment to quality and rugged durability.  We hope this is a relationship that 'sticks' this year and into the future." 
For more information on T-Rex® Tape, their partnership with Tough Mudder or sweepstakes rules, visit T-RexTape.com/ToughMudder.
### 
T-REX® TAPE
T-Rex® products use modern, next-generation technology to produce top-quality tapes that perform well in all conditions – helping everyone from do-it-yourselfers and professionals to extreme sports and outdoorsmen get the job done.  T-Rex® Tape, marketed by ShurTech Brands, LLC, is available at retailers nationwide, as well as Canada. For additional product information, visit T-RexTape.com, find us on Facebook® (Facebook.com/TRexTape), follow us on Twitter® (@TRexTape) or Instagram (@TRexTape) or watch us on YouTube® (YouTube.com/TRexTape). 
About Tough Mudder, Inc.:
Founded in 2010 with the launch of the Tough Mudder obstacle course event series, Tough Mudder Inc. has become a leading global sports, active lifestyle and media brand. With more than 3 million participants, the company hosts more than 130 non-competitive (Mini Mudder; Tough Mudder 5K, Tough Mudder Half, and Tough Mudder Full) and competitive (Tougher, Toughest, Tough Mudder X and World's Toughest Mudder) events annually in 11 countries including China, Dubai, Indonesia, and Australia through its partnerships with IMG, Seroja and Sports Media and Entertainment 360 (SME360). The company's content arm provides the more than millions of engaged online brand enthusiasts with fitness, nutrition and wellness content delivered daily across social and digital platforms. Tough Mudder broadcast, OTT and Live Stream programming can be seen worldwide through partnerships with CBS Sports, Facebook, Sky Sports, The CW Network and ESPN Media Distribution. Other sponsorship and distribution partners include Merrell, Amazon, KILL CLIFF, Jeep, Aflac, Guinness, Vega, Samsung, Olympus, Lucozade Sport, Nexcare, For Goodness Shakes, Bosch, TREK, Head & Shoulders, L'Oreal Men Expert, Käserei Loose, Snapchat and Live Stream.