Which T-Rex Tape is Right for your Job?
Which T-Rex Tape is Right for your Job?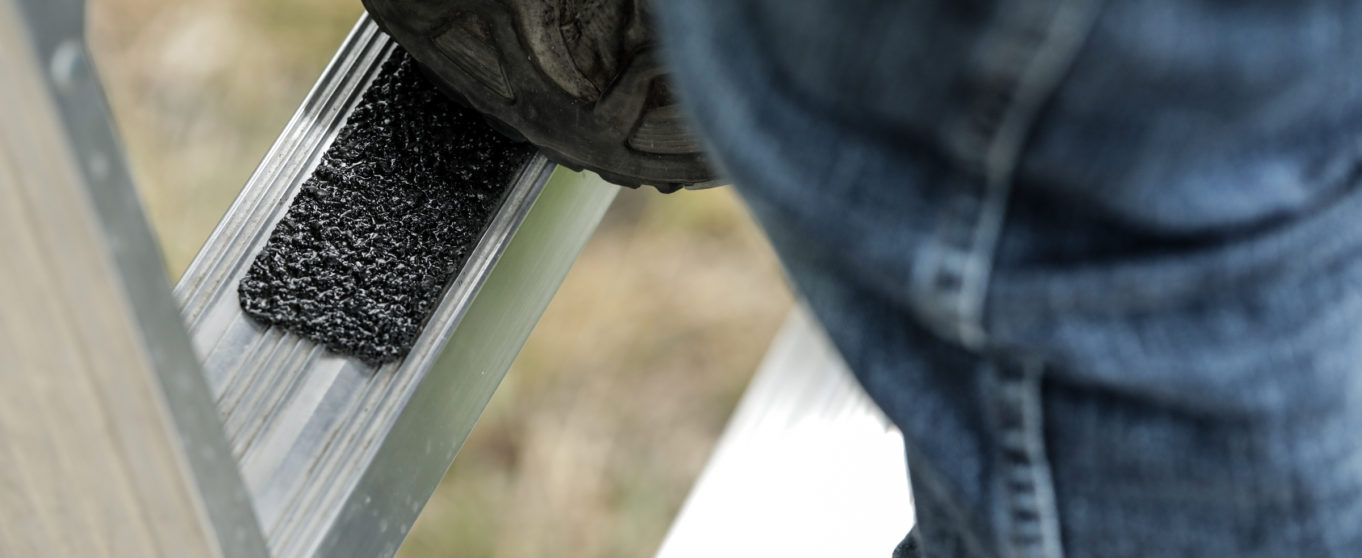 BRUTE FORCE™
The strongest tape on the market, period.
IDEAL FOR:
• Lifting, securing, bundling tools and heavy building supplies
• Pulling or towing in place of rope or chain
• General repairs
FEATURES:
• Built with Forge-Link™ Technology, an extremely strong tensile cloth
• One loop holds 700+ pounds of weight
• Durable waterproof backing and aggressive high tack adhesive
• Too tough to tear by hand
T-REX® TAPE 
High-powered duct tape with aggressive double-thick adhesive.
IDEAL FOR:
• Repairing tears — truck seats, boots and more
• Bundling building materials
• Attaching tarps and sheathing outdoors
• Masking extremely rough surfaceslike brick, concrete, wood and vinyl
FEATURES:
• Made with UV-resistant materials to prevent the sun weakening the tape adhesive
• Heavy-duty knit cloth for high tensile construction
• Sticks to rough, dirty surfaces through all weather types and temperatures
• Available in black, gray, white, orange and camouflage
CLEAR REPAIR TAPE
The same aggressive adhesive as T-Rex Tape, but in crystal clear.
IDEAL FOR:
• Discreet repairs on clear surfaces, including fiberglass and plastic.
• Repairing cracks in headlights and cell phone screens
FEATURES:
• Sticks to rough, dirty surfaces across a wide range of temperatures
• Long-lasting holding power and a durable puncture-resistant backing
• Waterproof, and UV-resistant seal to almost any repair
• Won't break down or yellow over time
WATERPROOF TAPE
Waterproof adhesion, even in extreme conditions.
IDEAL FOR:
• Patching and sealing indoor or outdoor surfaces, including wet surfaces
• Temporarily stopping leaks
• Temporary repairs to flashing, roofing and plumbing
FEATURES:
• Built with R-Flex Technology™, so it can stretch up to 700% of its original length
• Can be applied underwater and pushed into cracks and rough, dirty surfaces
• Can withstand extreme temperatures from -70°F to 200°F
• UV-resistant formulation won't break down under harsh sunlight
EXTREME TREAD TAPE
Aggressive industrial-quality grip tape.
IDEAL FOR:
• Traction, grip and improved surface friction on a variety of surfaces like steps, walkways, truck runnerboards and trailers
FEATURES:
• Heavy-duty, pressure-sensitive adhesive
• Meets and exceeds OSHA and ADA federal recommendations
• UV and weather resistant, with a temperature range of -40 °F to +220 °F
• Multi-layer grit embedding process for long-lasting wear
MOUNTING TAPE
Heavy-duty mounting tapes.
IDEAL FOR:
• All-weather mounting and holding of items like tool shelves, house numbers, mail boxes and security cameras
FEATURES:
• Works on a variety of surfaces and in different types of weather
• Can be used all year round
• Available in extreme hold black and clear
• Excellent replacement for glue, nails and screws