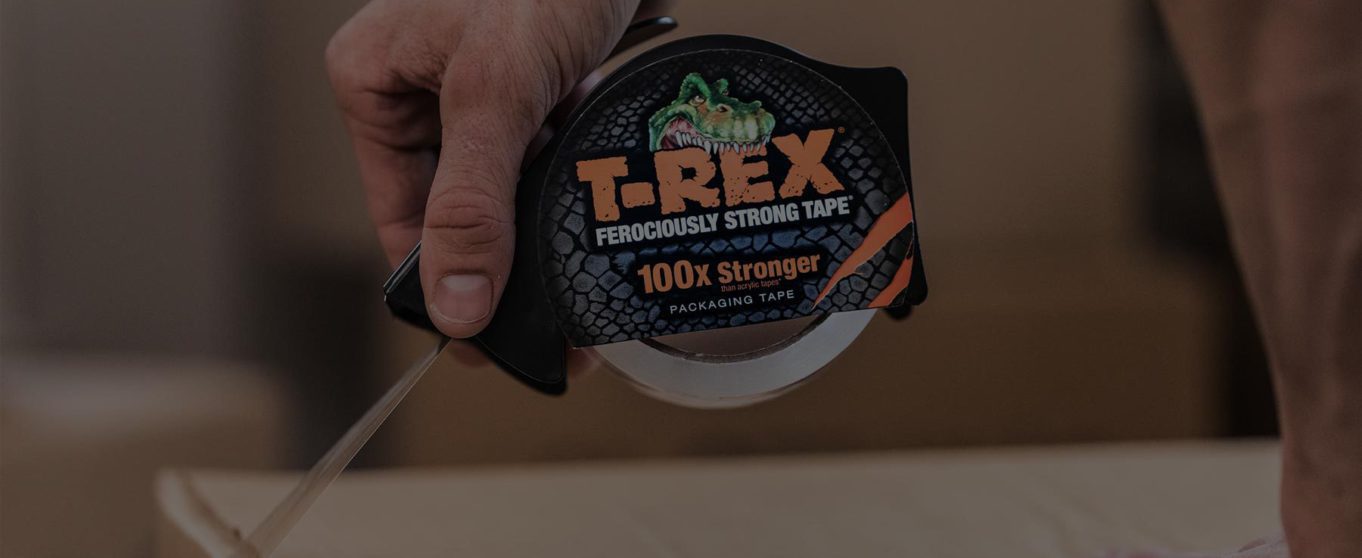 THE 2020 T-REX STRONG CONTEST – OFFICIAL RULES
NO PURCHASE NECESSARY. A PURCHASE WILL NOT INCREASE YOUR CHANCE OF WINNING. VOID WHERE PROHIBITED BY LAW.
THE 2020 T-REX STRONG CONTEST – OFFICIAL RULES
Contest Period: The 2020 T-Rex Strong Contest (the "Contest") begins at 12:00 a.m. Eastern Time ("ET") on May 20, 2020 and ends at 11:59 p.m. ET on July 15, 2020 (the "Contest Period").
Eligibility: Open to legal residents of the 50 United States and D.C. who are 18 years of age or older as of date of entry ("entrant"). Void where prohibited or restricted by law. Employees of Shurtape Technologies, LLC (the "Sponsor"), their affiliates, subsidiaries, divisions, suppliers, distributors, and advertising, promotional and judging agencies (collectively the "Sponsor and its Administrators") and each of their respective employees, shareholders, directors, officers, members, assigns and agents and their immediate family members and/or those living in the same household of each are not eligible to participate or win. 
How to Enter your Nominee: During the Contest Period, access the Contest website online at https://www.trextape.com/stronger and follow the on-screen directions to complete the required fields and submit an essay between fifty (50) and two hundred fifty (250) words along with either: 1) up to three (3) photos; or 2) a one (1) minute video, nominating an individual ("Nominee") who the entrant feels conveys the theme of "what is strong to me?", an individual who shows courage, resilience and strength in their personal or professional endeavors (collectively, a "Contest Entry" or "Entry"). Nominees must be legal residents of the 50 United States and D.C. 18 years of age or older as of date of nomination. Contest Entries must nominate another individual. Entrants may not nominate themselves. Please make your Nominee aware you are submitting an Entry about them and make sure they agree to such submission prior to Entry submission. The same individual may be nominated by multiple entrants. However, each Contest Entry for the same Nominee must be unique. There is a limit of one (1) Contest Entry per person/email address for the entire Entry Period. Multiple Contest Entries from any one (1) individual/email address will result in only the initial Contest Entry being accepted and all additional Contest Entries from such individual/email address will automatically be disqualified. Any attempt by any entrant to obtain more than the stated number of entries by using multiple/different email addresses, identities, registrations and logins, or any other methods will void such entries and that entrant may be disqualified. Use of any automated or computer system to participate is prohibited and will result in disqualification. Normal Internet access and usage charges imposed by your online service may apply. If entering via mobile device, normal phone/data and usage charges imposed by your phone service may apply. Standard data rates may apply if entering via mobile device.
Incomplete, corrupted, or untimely entries are void and will be disqualified. Sponsor and its agencies are not responsible for lost, late, incomplete, damaged, stolen or misdirected entries; lost, interrupted, or unavailable network, server, or other connections; or miscommunications, computer or software malfunctions, telephone transmission problems, technical failures, garbled transmissions, damage to a user's computer equipment (software or hardware), or other errors or malfunctions of any kind, whether human, mechanical, electronic or otherwise. Proof of submission will not be deemed to be proof of receipt by Sponsor. In the event of a dispute as to the identity of an entrant, the authorized account holder of the email address used to enter will be deemed to be the entrant. The "authorized account holder" is the natural person assigned an email address by an Internet access provider, online service provider, Internet service provider, or other organization (which may include an employer) responsible for assigning email addresses for the domain associated with the submitted address. Potential winning entrant(s) may be required to show proof of being the authorized account holder. Entries specifying an invalid, non-working, or inactive email address will be disqualified and ineligible to win.
Entries must be unique and must comply with the "Entry Requirements" set forth below.
Entry Requirements:
Entry essays must be between 50 and 250 words and must be in English.
Photos must be high-resolution (300 DPI) color photographs. Videos must be no longer than 1:00 in length and must be submitted in MOV or MP4 format and no larger than 500mb.
Entry may feature additional people in photo/video. If so, please make them aware that you are submitting their image in this Contest and that they agree to the submission of their image. If an additional person is a minor is his/her state of primary residence, entrant must be parent or legal guardian of minor depicted. If photo/video features additional people, they (or entrant as parent or legal guardian) may be required to sign a Release Form, in Sponsor's sole discretion.
If photos or videos were taken by a professional photographer or videographer, entrant must obtain the rights to the photo or video from the photographer/videographer in order to submit such content. 
Entry must be your original idea (modification of an original work is not an original idea). Entries must not copy or otherwise plagiarize from any source.
The Entry must not have been submitted previously in a giveaway or promotion of any kind or previously exhibited or displayed publicly (i.e., disclosed beyond your immediate circle of friends and family) through any means.
The Entry must not contain content that is known by you to be false, inaccurate or misleading.
Any Entry deemed inappropriate or unsuitable, in Sponsor's sole discretion, will be disqualified. Entries must not contain material that is inappropriate, indecent (including, but not limited to, nudity, or pornography), profane, obscene, hateful, tortious, defamatory, slanderous, libelous (including words or symbols that are widely considered offensive to individuals of a certain race, ethnicity, religion, sexual orientation, or socioeconomic group), violent, self-mutilating (e.g., relating to murder, the sales of weapons, cruelty, abuse, etc.), or illegal (e.g., underage drinking, substance abuse, computer hacking, etc.).
The Entry must not contain or depict material that promotes bigotry, racism, hatred or harm against any group or individual or promotes discrimination, including without limitation, discrimination based on race, sex, religion, nationality, disability, sexual orientation or age. The entry must not contain or depict material that is threatening to any person, place, business, group, or world peace or contain words or symbols that are widely considered offensive to individuals of a certain race, ethnicity, religion, sexual orientation, or socioeconomic group.
The Entry must not contain any content that infringes or may infringe third party rights, including, without limitation, any copyright, name, trademark, logo, trade dress, or other personal or proprietary right of any person living or deceased (including but not limited to rights of privacy or publicity or portrayal in a false light) or entity or make reference to any commercial/corporate advertising (including but not limited to corporate logos, brand names, charities, slogans, political, or religious statements), or be otherwise objectionable. Without limiting the generality of the foregoing, publicly displayed and publicly accessible Sponsor content, materials, or products are permitted to be displayed in Entries submitted for this Contest. 
Videos must not include music protected by a copyright (but including music that you own or have the rights to use is permitted).
Any clothing shown in the photo/video should not contain any visible logos, drawings, cartoons, phrases, trademarks or other third-party content or materials (but showing publicly displayed or publicly accessible Sponsor content, material, and products as described above is permitted).
The Entry must not include any representation of celebrities, athletes, musicians, or any other third-party (public or private), include any anti-social, political or religious groups, any commercial solicitation or promotional materials or name, address, phone number, or URL address. Entries must not contain advertisements, personal solicitations or commercial solicitations.
Entrants/Nominees and all submitted Entries must be in keeping with Sponsor's image as determined by Sponsor, in its sole discretion, or entry will be disqualified from the Contest. The Entry must not disparage persons or organizations associated with Sponsor.
Entries must not reference any of Sponsor's competitors.
Each entrant grants to Sponsor a worldwide, royalty-free, perpetual, non-exclusive right and license to copy, distribute, and display each submitted Entry, in any media, and with right to use, copy, modify, edit, and create derivative works therefrom, and agrees to execute documents confirming such right and license at Sponsor's reasonable request. By entering, you understand that your Entry will be screened by the Sponsor and may be posted online to a gallery, in Sponsor's sole discretion, to be viewed by members of the general public for public viewing. By entering, each entrant warrants and represents that his/her Entry is original, has not been previously published or won any award, does not contain any material that would defame or otherwise violate or infringe upon the rights of any third party, including patents, copyrights, trademarks or rights of privacy or publicity, and will not violate any federal, state or local laws or ordinances. Sponsor reserves the right in its sole and unfettered discretion to disqualify any Entry that it believes contains obscene, offensive or inappropriate content, that does not comply with these Official Rules or that is not consistent with the spirit or theme of the Contest. No information regarding Entries, other than as otherwise set forth in these Official Rules will be disclosed.
Determination of the Grand Prize Winners: All Entries received during the Contest Period will be judged and scored by a Sponsor-specified panel of judges on or about July 17, 2020 to determine the Grand Prize winners based on the following criteria: Compelling Story of Nominee (40%); Originality and Creativity of Entry (40%); Overall Quality of Entry (10%); Fit to Contest Theme (10%). The three (3) Entries with the highest scores as determined by the Judges will be deemed the Grand Prize winning Entries. In the event of a tie, tied Entries will be re-judged based solely on Compelling Story of Nominee. Decisions of judges/Sponsor are final and binding with respect to all matters relating to this Contest. All prizes will be awarded to Nominees, not the entrants.
Grand Prizes and Actual Retail Value (the "ARV"): Three (3) Grand Prizes will be awarded to winning Nominees ("Winners") only - $1,000 cash, awarded as a check. The total ARV of all prizes is $3,000. All federal, state, and local income taxes for acceptance and use of the Grand Prizes are the sole responsibility of Winners. No substitution or transfer of prize permitted, except as permitted by Sponsor in their sole discretion. 
Winner Notification/Verification: The potential entrants associated with winning Nominees and the Winners will be notified via U.S. Mail and/or email at the street address or e-mail address provided during Entry submission and will be required to sign and return, a Declaration of Eligibility & Liability Release and where legal, a Publicity Release (where legal) and Assignment of Rights (as applicable) (collectively "Declaration") within five (5) days of notification attempt. Noncompliance within this time period may result in disqualification and an alternate Winner may be determined and notified, as indicated above. Both the entrant associated with the winning Nominee and the Nominee Winner must return their Declarations in order for the Nominee to win the prize. Any prize notification returned as non-deliverable or if potential Winner/corresponding entrant is not eligible, it will result in disqualification and the prize will be forfeited and an alternate entrant/Nominee may be determined and notified, as indicated above.
General Rules: A 1099 tax statement will be filed with the IRS for the actual total value of the prize and the 1099 form will be sent to the applicable Winners via U.S. Mail, to be processed by the applicable Winner in the year in which he or she receives the prize. By participating in this Contest, entrants/Winners agree to be bound by these Official Rules and the decisions of the Sponsor. All applicable laws and regulations apply. Entrants and Winners hereby hold the Sponsor and its Administrators and each of their respective officers, directors, members, managers, employees, agents, representatives, successors and assigns (the "Released Parties") harmless from and against any third party claim arising from use of any Entry and entrants/Winners waive any right to inspect or approve uses of your Entry by Sponsor in connection with the Contest or to be compensated for any such uses. Participating in the Contest constitutes permission to the Sponsor to use an entrant's/winner's name, address, and likeness in connection with the administration of the Contest only and as otherwise required by law. By participating in the Contest, the entrant/Winner agrees that Released Parties will have no liability whatsoever for, and will be held harmless by entrant/Winner for any liability for any bodily injury, loss or damages of any kind to persons, including death, and property, due in whole or in part, directly or indirectly, from Entry, the acceptance, possession, use or misuse of prize, if applicable, or participation in the Contest or participation in any Contest related activity. You hereby represent and warrant that you have read these Official Rules and are fully familiar with their contents and agree to be bound by them. The Sponsor is not responsible for any typographical or other error in the printing of the Contest materials or the offering or announcement of the prizes.
Disputes: ENTRANT AGREES THAT: (1) ANY AND ALL DISPUTES, CLAIMS AND CAUSES OF ACTION ARISING OUT OF OR CONNECTED WITH THIS CONTEST OR ANY PRIZES AWARDED SHALL BE RESOLVED INDIVIDUALLY, WITHOUT RESORT TO ANY FORM OF CLASS ACTION, AND EXCLUSIVELY BY THE APPROPRIATE STATE OR FEDERAL COURT LOCATED IN OHIO IN THE U.S.; (2) ENTRANT HEREBY WAIVES HIS/HER RIGHT TO CONTEST JURISDICTION; (3) ANY AND ALL CLAIMS, JUDGMENTS AND AWARDS SHALL BE LIMITED TO ACTUAL OUT-OF-POCKET COSTS INCURRED, INCLUDING COSTS ASSOCIATED WITH ENTERING THIS CONTEST BUT IN NO EVENT ATTORNEYS' FEES; AND (4) UNDER NO CIRCUMSTANCES WILL ENTRANT BE PERMITTED TO OBTAIN AWARDS FOR, AND ENTRANT HEREBY WAIVES ALL RIGHTS TO CLAIM, PUNITIVE, INCIDENTAL AND CONSEQUENTIAL DAMAGES AND ANY OTHER DAMAGES, OTHER THAN FOR ACTUAL OUT-OF-POCKET EXPENSES, AND ANY AND ALL RIGHTS TO HAVE DAMAGES MULTIPLIED OR OTHERWISE INCREASED. SOME JURISDICTIONS DO NOT ALLOW THE LIMITATIONS OR EXCLUSION OF LIABILITY FOR INCIDENTAL OR CONSEQUENTIAL DAMAGES, SO THE ABOVE MAY NOT APPLY TO YOU. All issues and questions concerning the construction, validity, interpretation and enforceability of these Official Rules, or the rights and obligations of the entrant and Sponsor in connection with the Contest, shall be governed by, and construed in accordance with, the laws of the state of Ohio in the U.S., without giving effect to any choice of law or conflict of law rules (whether of the state of Ohio or any other jurisdiction), which would cause the application of the laws of any jurisdiction other than the state of Ohio.
Privacy: Any personally identifiable information collected during your participation in this Contest will be used by Sponsor and its agents for purposes of the proper administration and fulfillment of the Contest as described in these Official Rules, and in accordance with Sponsor's Privacy Policy, posted at https://www.trextape.com/privacy-policy and as allowed by law. 
Winners List: For a list of Winners, available for ninety (90) days after July 20, 2020, send an email to: Winners@dja.com with ShurTape T-Rex Contest Winners (2465-03) as the subject line. Winners List will be sent after all prizes have been awarded.

Sponsor: The Sponsor of the Contest is Shurtape Technologies, LLC, 23150 Just Imagine Drive, Avon, OH 44011.